Jaco Pastorius is regarded as one of the greatest fretless bassists of all time. His innovations, such as using melody and harmony to extend the range and scope of the instrument, have made him a legend among musicians. If you're interested in exploring Pastorius' playing or learning more about his impressive fretless bass-playing, this article will tell you everything you need to know.
Pastorius was born on December 1, 1951 and grew up in South Florida. He spent much of his childhood playing drums before switching to bass at the age of 12. While there are many world-class bassists who came before him (like Ray Brown), Pastorius' innovations made him a true game changer. He played with a wide range of artists, from Joni Mitchell and Blood Sweat & Tears to the band Weather Report. In addition to influencing the fretless bass community, Pastorius' style had a large impact on how other instruments are played today, particularly guitar.
Pastorius was a true phenomenon in the world of Jazz music. His unmatched fretless bass playing has left an enduring legacy on the genre that continues to influence musicians today.
But before he became a legend, Pastorius had to hone his craft. He attended the University of Miami's music program, when he was 17-years-old, and studied under some of the most renowned jazz greats, including Pat Metheny, Lenny White, and Wayne Shorter. Pastorius was able to learn from these experienced musicians, and eventually become one of the best jazz bass players of all time.
Though he was initially trained in classical music, it was the lessons he learned at the University of Miami that allowed him to fully express himself as a musician. His unique style of fretless bass playing, a combination of traditional jazz and funk, was a result of all the knowledge he gained during his time there. His technique has since been credited with revolutionizing jazz bass and inspiring countless other musicians.
Jaco Pastorius was a true innovator in the world of jazz, and his legacy lives on to this day. He was an inspirational figure in the musical community, and his time spent studying at the University of Miami no doubt helped shape him into the jazz legend he is remembered as.
Music is the only thing keeping the planet together.
Was Jaco Pastorius the Greatest Bassist Ever?
It's hard to say who the greatest bass player of all time is, but it's hard to deny that Jaco Pastorius was one of the most influential and talented ever. His fretless bass playing was unmatched and his technique and creativity pushed boundaries in ways no one had before.
Before Pastorius, most jazz bassists used acoustic, upright bass. But Jaco played electric bass guitar, and he did it with a fretless neck. He was known for playing fast and loud, with a unique singing style and charisma that set him apart from other bassists. His stage presence was remarkable, often performing barefoot and shirtless.
So how did Jaco Pastorius remove his frets? He claimed he used a butter knife to remove them, then sealed the fretboard with Plastic Wood and applied several coats of Petite's Poly-Poxy. Unfortunately, during an argument, he smashed his bass into more than 15 pieces, only to have it stolen from a Central Park bench in New York City.
The legacy of Jaco Pastorius lives on today and he is remembered as one of the greatest bassists of all time. He revolutionized the way the instrument was played, inspiring generations of bassists who continue to explore its possibilities.
Famous Musicians Who Have Covered Pastorius Songs
Jaco Pastorius is widely considered to be one of the greatest bass players of all time. His fretless bass playing was truly unmatched, blending together funk, jazz, and rock elements into a sound that was unmistakably his own.
The influence of Jaco Pastorius on modern music is undeniable, as evidenced by the numerous musicians who have covered his songs over the years. Sting, Herbie Hancock, Pat Metheny, and others have all taken on the challenge of covering some of Pastorius' best-known tunes.
Sting's version of "Cannonball" is perhaps one of the most well-known covers of Pastorius' work. Sting's rendition features a stellar vocal performance, backed up by an incredible bassline. Herbie Hancock's cover of "Teen Town" is also quite impressive, capturing the spirit of the original while adding his own unique touch. Pat Metheny's cover of "Continuum" is yet another great example of how Pastorius has influenced modern musicians.
These are just a few examples of the many musicians who have covered Jaco Pastorius songs. From classic rockers to jazz legends, the legacy of Pastorius is alive and well in today's music. Whether it's a faithful rendition or a more modern interpretation, these covers serve as a testament to the timelessness of Pastorius' music.
Download Sheet Music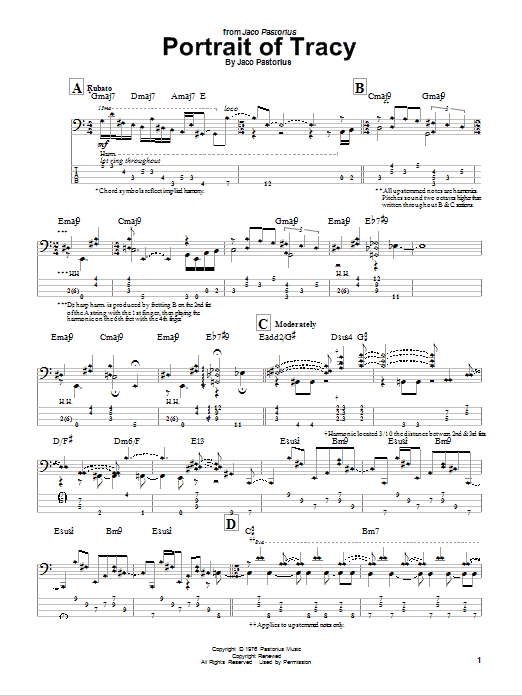 What is the most famous Pastorius song?
One of his most iconic songs, "Portrait of Tracy," has been covered by numerous artists since its release in 1976. The song showcases Jaco's distinctive style and technique, making it one of the most influential pieces of music ever composed.
"Portrait of Tracy" was written as an ode to Jaco's daughter, but has become a timeless classic which has been reinterpreted countless times. It begins with a hauntingly beautiful introduction, featuring Pastorius' trademark finger-picking on the fretless bass. The melodic lines flow effortlessly, creating a dreamlike atmosphere that captivates the listener.
The song is notable for its unique structure, which features a series of repeating motifs that build up to a climactic conclusion. Jaco's playing is masterful, and he uses a variety of techniques to create an emotionally charged performance. The song also features a memorable saxophone solo, which adds another layer of complexity to the overall sound.
"Portrait of Tracy" is a true masterpiece that showcases Jaco Pastorius' unparalleled fretless bass-playing capabilities. It has inspired generations of musicians and continues to be one of the most beloved pieces of music ever recorded.
Music Video