'Easy On Me' has over 370 million listens on Spotify just two weeks after its release.
Are you like us and listening to Adele's new album on repeat these days?
It's no secret that '30', Adele's latest album, is a megahit. The album officially dropped November 19, 2021, and it is now the fastest-selling album in both the UK and the US.
So as we head into the holidays, what are you waiting for? Get ready to impress at the office party or grandma's house this holiday season by mastering the album's top hits with our Adele sheet music.
This guide will walk you through how to play the top hits from '30' and will share some of the stories behind Adele's raw, emotional lyrics.
Who Is 'Easy on Me' About?
For lifelong fans of Adele, the soulful voice and emotional lyrics of '30' come as no surprise. But it's clear from the start that the life experiences that inform '30' are more mature and that the tone of many songs is more introspective than anything that's come before from the British pop icon.
'Easy on Me,' currently #1 on the Billboard Top 100, is no exception to this. '30' is the first album released after Adele's divorce from Simon Konecki, and her grief and growth from this experience rings true in many tracks. In her own words, the album is a testament to 'the most turbulent period' of her life.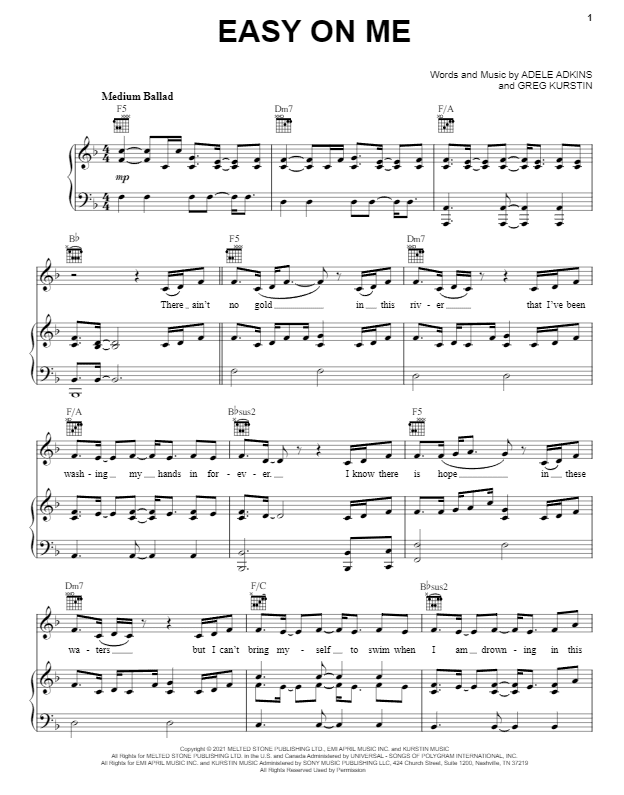 Adele has repeatedly shared that she hopes '30' will become a message to her son Angelo as he grows up. As a mother navigating a divorce, the singer had to consider the impact of her actions both on her happiness and on her nine-year-old boy. The journey was challenging for all involved, and those challenges come to light in the song's lyrics.
"Go easy on me baby," she sings to Angelo in the chorus. "I was still a child. I didn't get a chance to feel the world around me."
Students and teachers alike will find lots to ponder in the Adele 'Easy on Me' sheet music. This arrangement is easy to follow, including guitar tabs, a piano transcription, and a clear treble clef vocal line displayed above the piano line.
If you are playing more than one part yourself, master the piece one instrument at a time before adding them together. Students can also take advantage of our playback and transpose feature, allowing you to listen and play along with the music.
Music Video
A Change of Pace With 'Oh My God'
On an album full of piano ballads and down-tempo bass lines, 'Oh My God' stands out as a plucky, refreshingly upbeat track. Like 'Easy On Me,' the song was co-written by Adele and producer Greg Kurstin, but that's where the similarities end.
While 'Easy On Me' is a song that dwells on the past, justifying previous actions, 'Oh My God' is a song about looking forward where a nervous Adele confronts leaving her house again and getting back on the dating scene post-divorce.
"I don't have to explain myself to you," she sings to the specter of Simon Konecki, "I am a grown woman, and I do what I want to do." The song drives this sense of independence home by incorporating R&B elements and strong backup vocals to build an overall sassy tone and driving beat.
Students and teachers will get to do what they want to do with this song. Check out Adele 'Oh My God' sheet music to see what we mean.
The sheet music breaks down each section of the song into manageable chunks, including guitar tabs, a vocal line, and piano transcription. Listen along as you work through it with our playback and transpose feature and master 'Oh My God' one section at a time. In the sheet music of this piece, you'll see how sections repeat throughout the song, making it an easy one to perfect.
Self-Reflection in 'I Drink Wine'
Teachers and students looking for a longer song to challenge their endurance should consider 'I Drink Wine,' a track that clocks in at six minutes and seventeen seconds. In interviews, Adele has confessed that the original version was fifteen minutes long, but concerns about being able to play the song on the radio convinced the singer to cut it down.
So what is this beast of a song about?
Alcohol is complicated for Adele. The singer has confessed in interviews that drinking took her father from her and that during the early days of the COVID-19 pandemic, she relied a little too heavily on it. She also talks about quitting drinking for a time immediately after her divorce.
But the song is about more than that.
"Why am I obsessing about the things I can't control?" She asks in the lyrics. This question resonates with listeners, but for the star, in particular, it shows how the song was part of the process of her regaining her confidence as a person and an artist.
That artistry comes through in the song's composition. We see Adele blend meaning with music: when she sings, "I'm trying to keep climbing up," we hear an ascending arpeggio that singers will appreciate as they perform. Follow along with the Adele 'I Drink Wine' sheet music to catch these and more details.
The sheet music for this song is nine pages long and includes guitar tabs, a piano line, and a vocal line. You can download it and print it out if that's your preference, or use the PDF on your digital sheet music viewing device.
As with our other pieces, the guitar tabs are shown above the treble clef vocal line. Below both is the piano transcription, where dynamic volume indications are given.
Work through 'I Drink Wine' one page at a time, and be sure to give yourself breaks as necessary. Adele's impressive vocal range is on display in this song, and that can be taxing on the voice, especially given the song's length. Regular breaks will allow you to practice more effectively.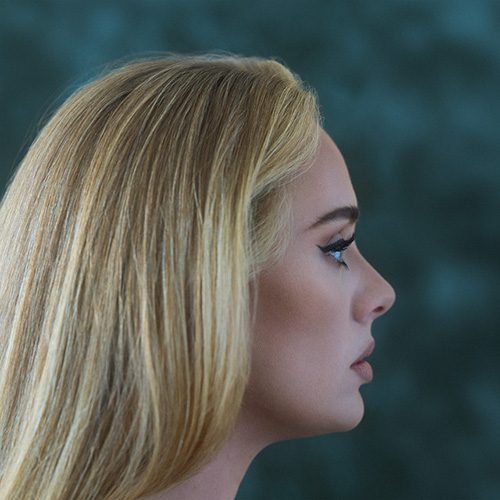 Download Adele Sheet Music Today
Adele has done it again, wowing us all with the sheer range of talent and feeling in '30'. Get practicing while her songs are dominating the chart and impress your friends and family by performing these all-star tracks.
We have the songs discussed here and more available for download on our website, arranged for many different instruments.
So check out our Adele sheet music archive and start singing today!
Love doing business with them.
Stephen Markham
2022-07-18
Bought some sheet music for an audition. It was giving an error late at night. I emailed and expected a response within a couple of days. Insteon received an answer within 30 minutes! What great customer service! Definitely recommend this company!!!
Excelent service, got all my sheet music I needed right away. I will definately buy more from them.
Marissa Mueller
2022-03-30
Bernard Jonathan
2022-01-20
Excellent job of transcribing the melody for I Need to Wake Up!
Easy to use website and after care. Great selection of music in all genres to choose from.