Yiruma is a South Korean pianist and composer who is famous for his contemporary piano pieces. "River Flows in You" is one of his most popular pieces, and it is often used in wedding ceremonies and other romantic occasions and that's why we will tell you why this song is the best piano piece to learn. If you are looking for a beautiful and touching piece to learn on the piano, "River Flows in You" is a great choice.
Yiruma is an internationally-renowned classical pianist and composer from South Korea. At the age of five, he began formal piano lessons with his mother. At the age of ten, he began to take private lessons with his piano teacher and soon became one of the youngest piano students to study at the Korea National University of Arts. His first album was released in 2002 and sold more than one million copies.
"River Flows in You" is just one of the many beautiful piano pieces that Yiruma has composed. If you are an aspiring pianist and are looking for some sheet music, you can find many of his pieces on the internet. You can even learn to play the piano version of this piece.
Have you heard of "A River Flows in You" by Yiruma?
Have you heard the amazing piano cover of "A River Flows in You" by Yiruma? It's one of the most beautiful piano covers I've ever heard. If not, go listen to it. It will bring tears to your eyes (if you're into that kind of thing). Regardless, it's impossible for me to pick a favorite out of all the great piano covers out there but this is definitely my personal favorite because of its emotional impact and wide appeal.
The sheet music for "A River Flows in You"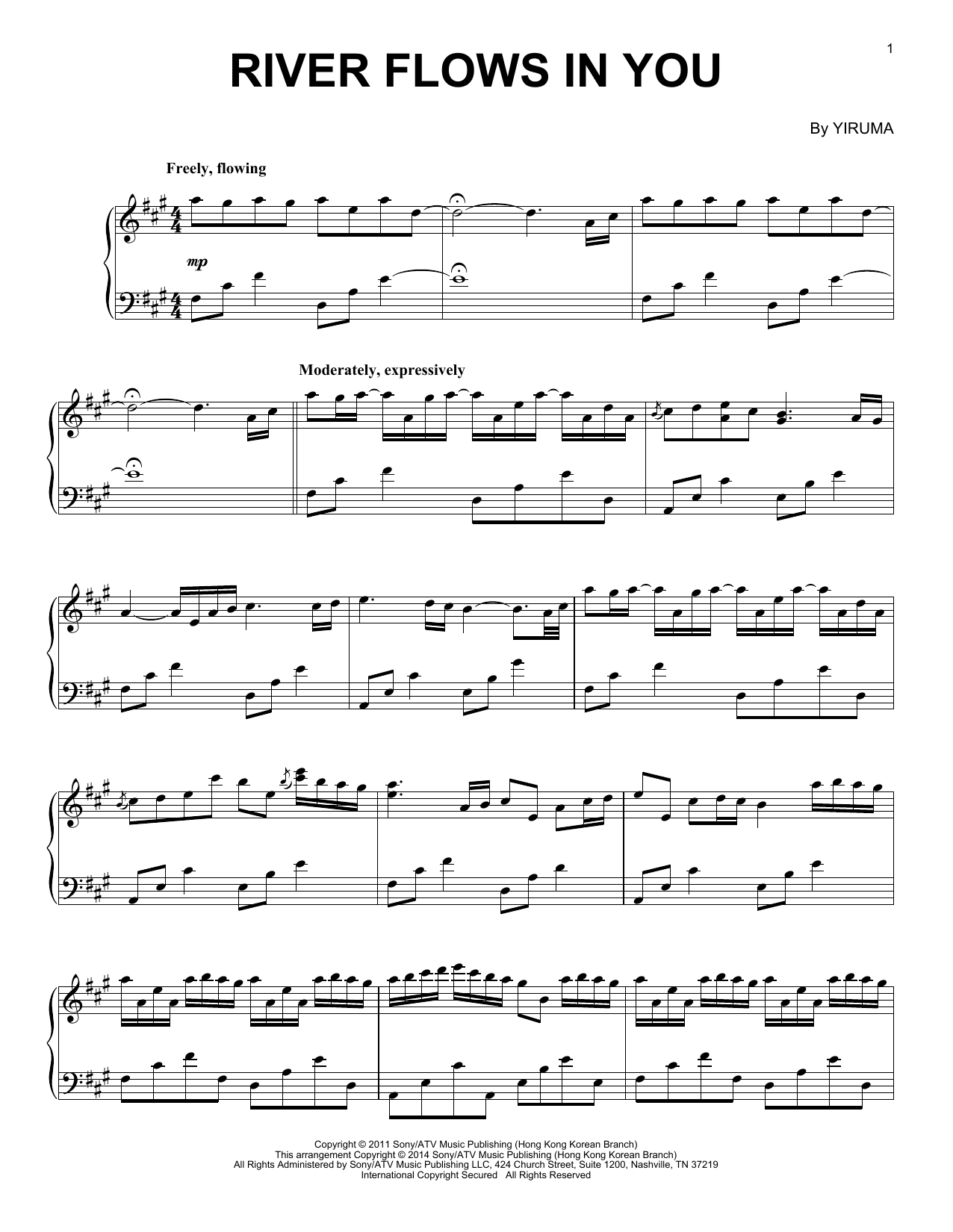 There is an interesting Internet phenomenon that began in 2009, of people recording themselves learning Yiruma's "River Flows in You" on their piano. What started as a funny YouTube video quickly took a life of its own, with many professionals taking up the challenge to learn the piece from scratch. Over time, it has become one of the most viewed pieces in Yiruman's catalog, and even went platinum in China. Although never officially licensed or used by famous orchestras and pianists across. Yiruma's own YouTube Channel has over 8 million subscribers and he is one of the world's most famous and successful pianists. Since the interest in learning Yiruma's "River Flows in You" has grown so much, here you can find the music notes to the song and learn it in minutes.
River Flows in You sheet music was originally published in the key of G major and starts in "Freely, flowing" rythm. These notes contain 3 pages and are compossed by Yiruma.
Why this is the best piano piece to learn
All great pieces of music are highly effective because of the formula: simplicity + depth = quality. For example, another obvious theme about Yiruma's River Flows in You is that it is very simple and easy to learn, but has the depth of a ten-minute piece of music. This lack of complexity leads to more people learning the song, and it becomes a massive success. Yiruma was able to introduce himself and his work to millions of listeners with this intro alone! Despite the simplicity of this song, there is a lot of depth to it as well. For example, by focusing on dynamics, Yiruma adds tension and release with short and long notes. As you can see from the sheet music, this pattern is all over the place in the song. These dynamic shifts make River Flows in You a great song to learn for both piano and saxophone. Final Verdict: River Flows in You is a highly effective song to learn because of its simplicity and depth. This song is the only one on this list that is not about falling in love, but it still manages to teach people about music in a non-threatening way.
Why is Yiruma River Flows in You so popular?
In 2007, the number one song in America was something called River Flows in You by South Korean pianist Yiruma. It's a very relaxing piece with simple notes and chords that play over 18 minutes. It sounds sort of sad but it is meant to be played at a slower pace without words. It has an infectious melody. Just when you think the music can't get any better, Yiruma adds instruments like cello and guitar to his already beautiful. It's no wonder why this song is so popular.
The app that made this song famous was on an iPhone. The song became a worldwide phenomenon after being released as part of an iPhone app in 2007. The app featured just the song with no instrumentals or vocals and was downloaded over 10 million times. The song is popular because it's simple, memorable, and easy to learn. You can start playing it on the piano or guitar with very little knowledge of music. There is no real meaning behind the song, but that's okay because it just makes it more accessible to people.