Recommended Bestselling Piano Music Notes
Additional Information

Additional Information

| | |
| --- | --- |
| Composers | Words and Music by Ed Sheeran |
| Original published key | G |
| SKU | 183658 |
| Release date | May 1, 2017 |
| Last Updated | Mar 20, 2020 |
| Genre | Pop |
| Arrangement | Easy Piano |
| Arrangement Code | EPF |
| Number of pages | 6 |
| Price | $6.99 |

21

Reviews

Initially had some issues printing these music notes after my purchase so I had to contact their support which responded almost immediately and fixed the issue so my work was not influenced. Thanks for great product and best support ever ;) Will definately return.


I am so excited about getting these music notes. What a great song, I love it so much.

It's really a joy playing these music notes on my instrument. I am so very glad I purchased them.

Lovely tune. I can not get away from it. have been listening and playing it for a while now.

I am a begginer piano player so I am having some hard time learning this time. Since practice makes perfect I am confident I will learn it on my instrument real fast. I am so glad I got these music notes.

I am so excited to start playing my favourite song. Thank you!

Glad I found this website where I can order licensed digital sheet music. They are affordable as well. Thank you so much!

Enjoy playing this tune on my piano. The music notes are simple and streightforward so even a beginner can learn to play. I am glad I was able to download pdf so I can play it later on.

what a great song. I simply can't stop listening and playing it. Thank you for providing 'Perfect', I am in love with this great music masterpiece.

Great song. Thumbs up all the way.
Download or print Ed Sheeran Perfect sheet music notes arranged for Easy Piano. This music score includes 6 pages and was composed by the young and talented British artist.

Originally published in the key of G, Perfect sheet music can be transposed in range of +3 or -3 semitones.
How to play 'Perfect' by Ed Sheeran on Piano?
Is your favorite song ever "Perfect" by Ed Sheeran and you want to impress your friends by playing it?

What do you need to get started? An understanding of the scale Ed is using in this song, which happens to be a G.

Also having a sense of the chord progression used will help. With our interactive sheet music viewer this is a lot easier since you can follow the whole song from first to the last bar.

So, make sure you get these "Perfect" music notes and start practicing in minutes.
This score was
originally published in the key of
G. Composition was first released on Monday 1st May, 2017 and was last updated on Friday 20th March, 2020.
Watch
video here
.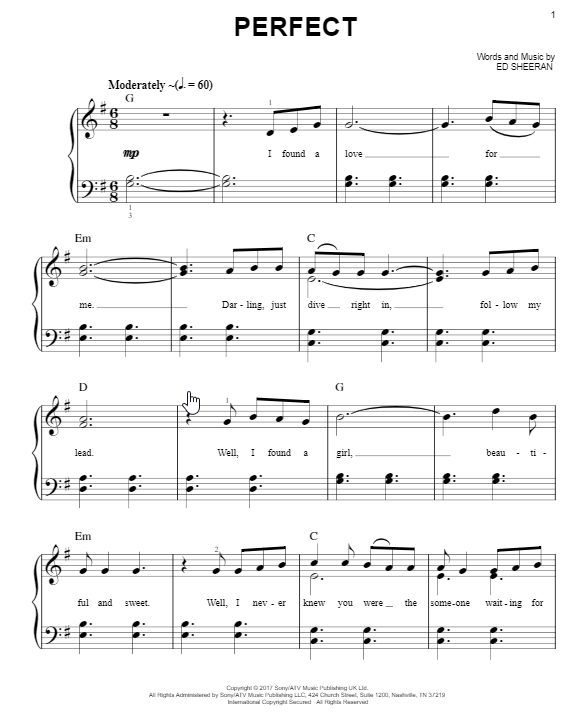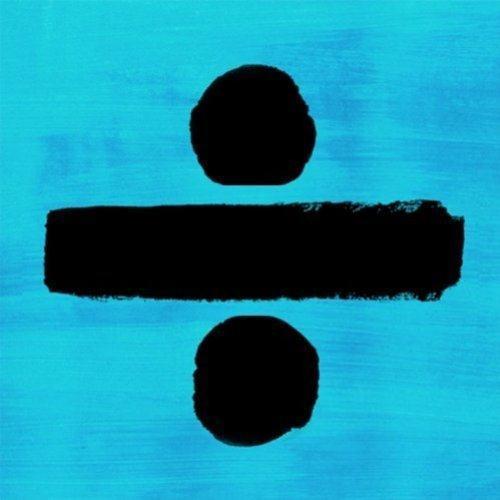 This week we are giving away
Michael Buble 'It's a Wonderful Day'
score completely
free
. After you complete your order, you will receive an order confirmation e-mail where a download link will be presented for you to obtain the notes.
In order to transpose click the "notes" icon at the bottom of
the viewer
. If transposition is available, then various semitones
transposition
options will appear. If not, the notes icon will remain grayed. Most of our
scores
are traponsosable, but not all of them so we strongly advise that you check this
prior to making your online purchase
. You can do this by checking the bottom of the viewer where a "notes" icon is presented. If it is completely white simply click on it and the following options will appear:
Original, 1 Semitione, 2 Semitnoes, 3 Semitones, -1 Semitone, -2 Semitones, -3 Semitones
. This means if the composers Words and Music by Ed Sheeran started the song in original key of the score is C, 1 Semitone means transposition into C#. If you selected -1 Semitone for score originally in C, transposition into B would be made. If your desired notes are transposable, you will be able to transpose them after purchase. Be careful to transpose first then print (or save as PDF). When this song was released on 05/01/2017 it was originally published in the key of G.
* Not all our sheet music are transposable. In order to check if 'Perfect' can be transposed to various keys, check "notes" icon at the bottom of viewer as shown in the picture below. Simply click the icon and if further key options appear then apperantly this sheet music is transposable.
Also, sadly not all music notes are playable. If "play" button icon is greye unfortunately this score does not contain playback functionality.



** Single print order can either print or save as PDF.
*** Selected by our editorial team.