Recommended Bestselling Piano Music Notes
Reviews & Digital Clair De Lune Sheet Music Details
Additional Information

Additional Information

| | |
| --- | --- |
| Vocal range | N/A |
| Original published key | N/A |
| Artist(s) | Claude Debussy |
| SKU | 33866 |
| Release date | Feb 1, 2006 |
| Last Updated | Mar 9, 2020 |
| Genre | Classical |
| Arrangement / Instruments | Piano Solo |
| Arrangement Code | Piano |
| Number of pages | 2 |
| Price | $7.89 |

3

Reviews

Customer Reviews

3 item(s)

Best service ever. I am so excited to be ale to play this song now. I've been looking for it for so long, came to this site, found it, bought it, printed it. Now I am playing it ;)

Enjoy playing this famous song on my instrument. I am so happy I finally got the music notes and can perform it for my friends and family. Thank you!

This is a classic. I love playing this tune on my piano and I am so glad I finally got the music notes to this song.
* Click playback or notes icon at the bottom of the interactive viewer and check "Clair De Lune" playback & transpose functionality prior to purchase.
For clarification contact our support.
Claude Debussy Clair de Lune sheet music arranged for Piano Solo and includes 2 page(s). The style of the score is
Wedding
. Catalog SKU number of the notation is 33866. The
arrangement code
for the composition is Piano. Minimum required purchase quantity for these notes is 1.
* Please check if
transposition
is possible before your complete your purchase. Digital download printable PDF.
Understanding Where the Song Comes From
One of the best ways to learn how to play "Clair De Lune," is to understand the author's intent and to understand what the classical music is trying to communicate through story. This can help you get a good feel for how you should be playing and what type of tune you should be producing. When you have a grasp on these aspects, you can have a better understanding of where your hands should be moving when you are working with the sheet music.
"Clair De Lune" is a part of a poetry collection that has been turned into a classical musical piece. Many people believe that one can even "hear" the poem through the delicate piano tune of the song. This, in addition to the fact that this is one of the simpler songs from Debussy, means that you will have a better chance of understanding what the author wanted you to get from the song. For example, the beginning of the song can be compared to only glimpsing at the wavering moon through trees. Through the use of the piano pedal, Debussy creates a sense of space and distance, as if the moon is something unattainable. When you understand the intent to create a situation where someone is merely glimpsing at the moon rather than during other parts of the song, you will have a much better idea of how to space everything out, including the use of the pedal. Even if you have trouble with sheet music, understanding the intent will give you a boost in the right direction during your learning process...
Read more in our blog
. Download Clair de Lune sheet music and chords to use it as an easy tutorial to start playing Claude Debussy song in minutes.
This score was originally published in the key of . Composition was first released on Wednesday 1st February, 2006 and was last updated on Monday 9th March, 2020.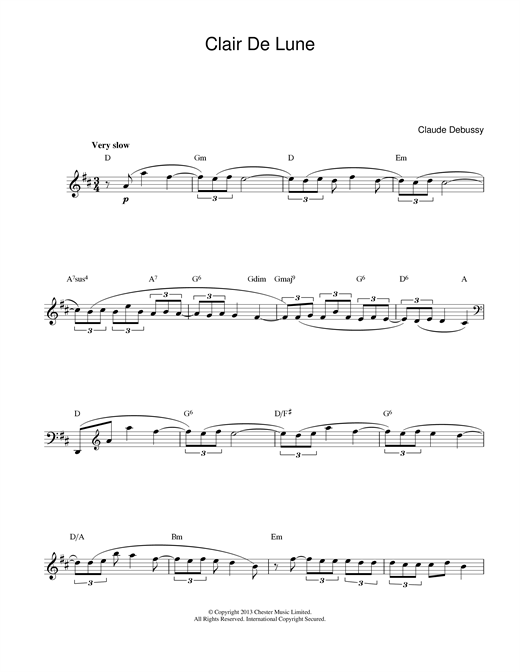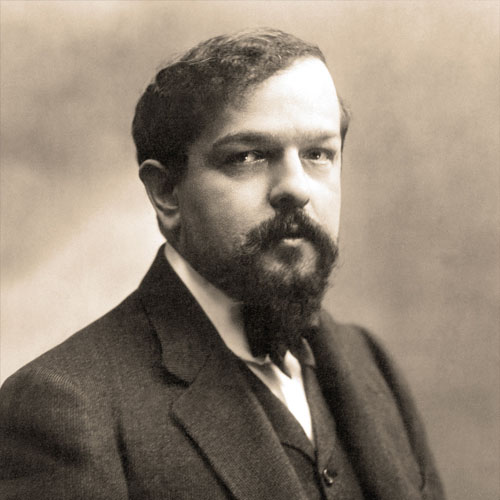 This week we are giving away
Michael Buble 'It's a Wonderful Day'
score completely
free
. After you complete your order, you will receive an order confirmation e-mail where a download link will be presented for you to obtain the notes.
In order to transpose click the "notes" icon at the bottom of
the viewer
. If transposition is available, then various semitones
transposition
options will appear. If not, the notes icon will remain grayed. Most of our
scores
are traponsosable, but not all of them so we strongly advise that you check this
prior to making your online purchase
. You can do this by checking the bottom of the viewer where a "notes" icon is presented. If it is completely white simply click on it and the following options will appear:
Original, 1 Semitione, 2 Semitnoes, 3 Semitones, -1 Semitone, -2 Semitones, -3 Semitones
. This means if the composers Claude Debussy started the song in original key of the score is C, 1 Semitone means transposition into C#. If you selected -1 Semitone for score originally in C, transposition into B would be made. If your desired notes are transposable, you will be able to transpose them after purchase. Be careful to transpose first then print (or save as PDF). When this song was released on 02/01/2006 it was originally published in the key of .
* Not all our sheet music are transposable. In order to check if 'Clair De Lune' can be transposed to various keys, check "notes" icon at the bottom of viewer as shown in the picture below. Simply click the icon and if further key options appear then apperantly this sheet music is transposable.
Also, sadly not all music notes are playable. If "play" button icon is greye unfortunately this score does not contain playback functionality.



** Single print order can either print or save as PDF.
*** Selected by our editorial team.