Recommended Bestselling Piano Music Notes
Additional Information

Additional Information

| | |
| --- | --- |
| Vocal range | Ab - |
| Original published key | Ab Major |
| Artist(s) | Camila Cabello |
| SKU | 776538 |
| Release date | Mar 4, 2022 |
| Last Updated | Mar 5, 2022 |
| Genre | Pop |
| Arrangement / Instruments | Piano, Vocal & Guitar Chords (Right-Hand Melody) |
| Arrangement Code | PVGRHM |
| Number of pages | 8 |
| Price | $7.89 |

5

Reviews

Customer Reviews

5 item(s)

Easy to search the site for music you want. I had an issue with not being able to download, however, they immediately fixed the issue and I had the sheet music the same day I ordered it.

Well, you can get started right now and have fun playing music.


Very excited about finally ordering this sheet music. I wanted to play it for a while now.


Customer response to a problem was much faster than expected with a resolution. I was impressed enough to say I wouldn't hesitate to buy again.


Great song of two popular and talented artists. This Bam Bam sheet music is very easy to learn to play. I was able to download it in no time and now I can practice on my piano. Glad I purchased it. Thank you!
* Click playback or notes icon at the bottom of the interactive viewer and check "Bam Bam" playback & transpose functionality prior to purchase.
For clarification contact our support.
Download Camila Cabello Bam Bam sheet music and printable PDF score featuring Ed Sheeran and arranged for Piano, Vocal & Guitar Chords (Right-Hand Melody) and includes 8 page(s).
"Bam Bam" was a highly anticipated release, as fans were eagerly waiting for Cabello's first new music of the year. The song comes after a very public breakup with another well-known singer–Shawn Mendes.
The lyrics to Cabello's new song are clearly about the end of a relationship. The song talks about some of the emotions and difficulties that come with a breakup, such as watching as a former partner moves on.
The song is the first single from Cabello's upcoming album, Familia, which is due for release on April 8, 2022. It is an upbeat dance song with Latin/salsa beats.Cabello has stated that she was influenced by the Latin music that she grew up listening to. She mentions that a lot of her favorite Latin songs include a life lesson.
According to Cabello, the lyrics to "Bam Bam" discuss the cycles that people go through in life, including the cycles of relationships. She explains that she was in an amazing relationship, but some things change and eventually come to an end.
Read more in our blog »
The style of the score is
Pop
. Catalog SKU number of the notation is 776538. The
arrangement code
for the composition is PVGRHM. Minimum required purchase quantity for these notes is 1.
* Please check if
transposition
and
playback
functionality is possible before your complete your purchase. You can do this by clicking notes or playback icon at the very bottom of the interactive viewer. Should you have any questions regarding this, contact our support team.
Digital download printable PDF Pop music notes.
This score was originally published in the key of Ab Major . Composition was first released on Friday 4th March, 2022 and was last updated on Saturday 5th March, 2022.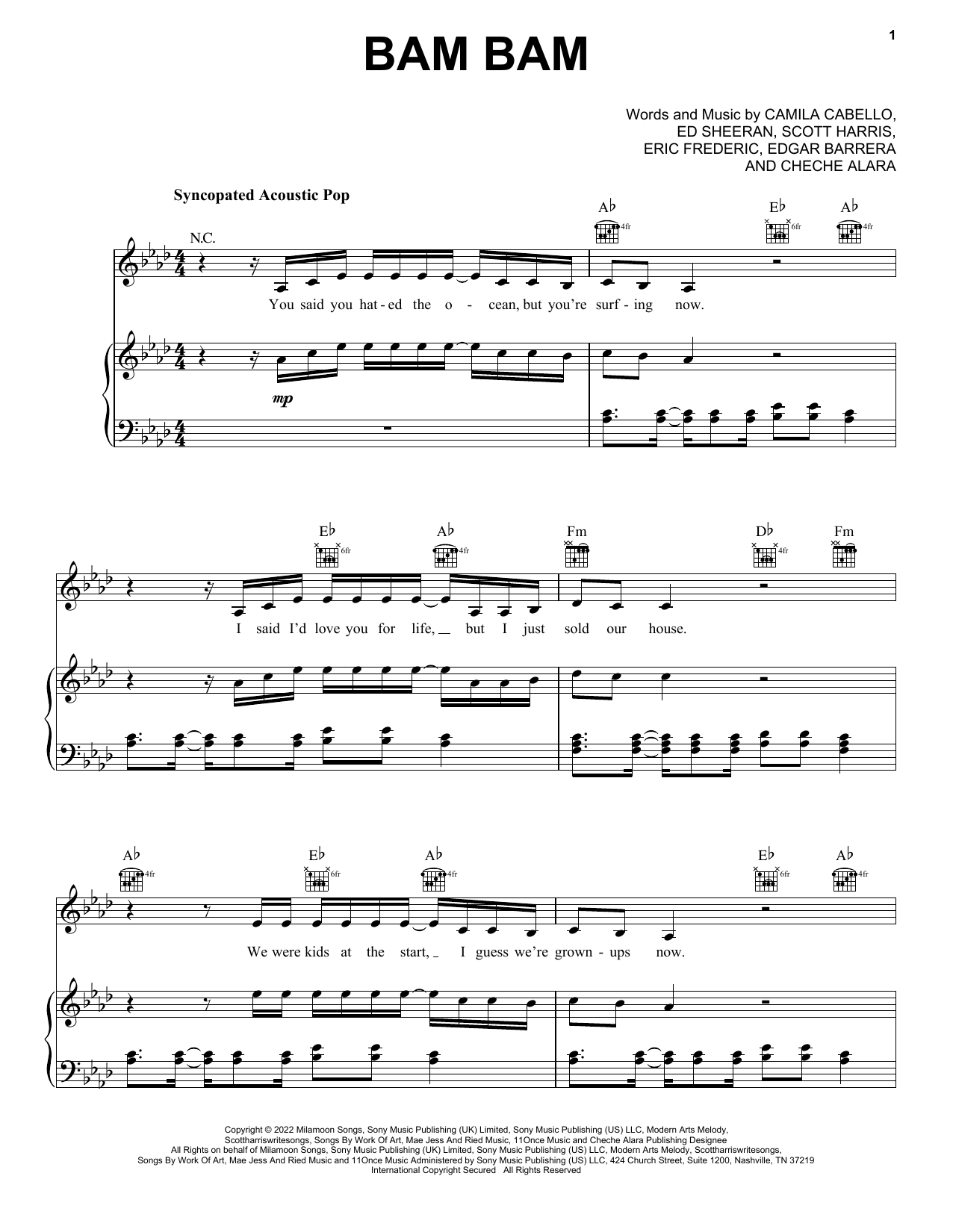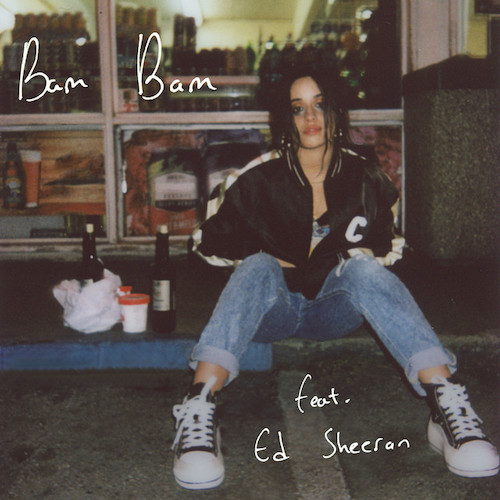 This week we are giving away
Michael Buble 'It's a Wonderful Day'
score completely
free
. After you complete your order, you will receive an order confirmation e-mail where a download link will be presented for you to obtain the notes.
In order to transpose click the "notes" icon at the bottom of
the viewer
. If transposition is available, then various semitones
transposition
options will appear. If not, the notes icon will remain grayed. Most of our
scores
are traponsosable, but not all of them so we strongly advise that you check this
prior to making your online purchase
. You can do this by checking the bottom of the viewer where a "notes" icon is presented. If it is completely white simply click on it and the following options will appear:
Original, 1 Semitione, 2 Semitnoes, 3 Semitones, -1 Semitone, -2 Semitones, -3 Semitones
. This means if the composers started the song in original key of the score is C, 1 Semitone means transposition into C#. If you selected -1 Semitone for score originally in C, transposition into B would be made. If your desired notes are transposable, you will be able to transpose them after purchase. Be careful to transpose first then print (or save as PDF). When this song was released on 03/04/2022 it was originally published in the key of .
* Not all our sheet music are transposable. In order to check if 'Bam Bam' can be transposed to various keys, check "notes" icon at the bottom of viewer as shown in the picture below. Simply click the icon and if further key options appear then apperantly this sheet music is transposable.
Also, sadly not all music notes are playable. If "play" button icon is greye unfortunately this score does not contain playback functionality.


** Single print order can either print or save as PDF.