Currently Bestselling Piano Music Notes
Reviews & Digital Bohemian Rhapsody Sheet Music Details
Additional Information

Additional Information

| | |
| --- | --- |
| Vocal range | N/A |
| Original published key | Bb |
| Artist(s) | Queen |
| SKU | 171581 |
| Release date | Jun 24, 2016 |
| Last Updated | Aug 30, 2023 |
| Genre | Pop |
| Arrangement / Instruments | Piano Solo |
| Arrangement Code | Piano |
| Number of pages | 7 |
| Price | $7.89 |

19

Reviews

I am a beginner piano player so I am having some hard time learning this time. Since practice makes perfect I am confident I will learn it on my instrument real fast. I am so glad I got these music notes.

This is a great product. It has everything a music lover could ask for. The images are sharp and clear, the pages are thick and durable, the notes are easy to read, and the pages are laid out in a very pleasing manner. All of these things make this a great way to get sheet music for learning or for playing in a group.

Highly recommend this sheet music. Love your support as well. Good job!


Very happy to have found your site where I was able to purchase digital sheet music. I can not stop playing this song ever since.

I downloaded this song for over the summer. I wanted it as a little bit of a challenge since I had only been playing for four years at the time. It was a lot of fun trying to learn it. I feel like it made me a stronger player because it was the longest song I ever tried playing and because of the different key signatures, time signatures, and the different kinds of notes made me a better player. That is just one of.the great products that I downloaded from this site!

Adore this song. I fell in love with it after watching a Bohemian Rhapsody movie with Rami Malek. What a great cast, music and film in general. Bravo.

I love the way the composition to this song developts. I love playing sheet music to this songs.

Very excited about finally ordering this sheet music. I wanted to play it for a while now.

I love the way the composition to this song developts. I love playing sheet music to this songs.

Initially I had some issues printing sheet music but when I contacted support they responded immediately and my problem was fixed. Now I can finally play it ;)
* Click playback or notes icon at the bottom of the interactive viewer and check "Bohemian Rhapsody" playback & transpose functionality prior to purchase.
For clarification contact our support.
Queen Bohemian Rhapsody sheet music includes sheet music notes for the piano, vocals, and guitar parts in the song "Bohemian Rhapsody" by Queen. It contains 10 pages and was originally published in the key of B♭ in 2001.
The words and music for "Bohemian Rhapsody" were written by Freddie Mercury for the British rock band Queen's 1975 album A Night at the Opera. "Bohemian Rhapsody" was not an initial commercial success but has become the band's most popular song over the years.
The song is a six-minute-long suite that blends rock with classical music instrumentation and unconventional lyrics. The song transitions from one genre to the next. It is also unique for a rock/pop song as it does not contain a chorus.
"Bohemian Rhapsody" begins with a five-part a cappella harmony before transitioning into a ballad at the 0:49 mark. The piano starts in B♭ major and is accompanied by a bass guitar. As the ballad intensifies, the song incorporates a guitar solo, which is followed by an opera, a hard rock segment, and an outro featuring vocals and piano.
With the Bohemian Rhapsody piano sheet music, you can now learn how to play what is considered one of the greatest rock songs of all time.
Lyrics & How To Play?
Is this the real life?
Is this just fantasy?
Caught in a landside,
No escape from reality
Open your eyes,
Look up to the skies and see,
I'm just a poor boy, I need no sympathy,
Because I'm easy come, easy go,
Little high, little low,
Any way the wind blows doesn't really matter to Me, to me

Mamaaa,
Just killed a man,
Put a gun against his head, pulled my trigger,
Now he's dead
Mamaaa, life had just begun,
But now I've gone and thrown it all away
Mama, oooh,
Didn't mean to make you cry,
If I'm not back again this time tomorrow,
Carry on, carry on as if nothing really matters

Too late, my time has come,
Sends shivers down my spine, body's aching all
The time
Goodbye, everybody, I've got to go,
Gotta leave you all behind and face the truth
Mama, oooh I
don't want to die,
I sometimes wish I'd never been born at all.

I see a little silhouetto of a man,
Scaramouch, Scaramouch, will you do the Fandango!

Thunderbolts and lightning, very, very frightening me
Galileo, Galileo
Galileo, Galileo
Galileo, Figaro - magnificoo

I'm just a poor boy nobody loves me
He's just a poor boy from a poor family,
Spare him his life from this monstrosity
Easy come, easy go, will you let me go
Bismillah! No, we will not let you go
(Let him go!) Bismillah! We will not let you go
(Let him go!) Bismillah! We will not let you go
(Let me go) Will not let you go
(Let me go)(Never) Never let you go
(Let me go) (Never) let you go
(Let me go)
Ah No, no, no, no, no, no, no
Oh mama mia, mama mia, mama mia, let me go
Beelzebub has a devil put aside for me, for me, For meee

So you think you can stop me and spit in my eye
So you think you can love me and leave me to die
Oh, baby, can't do this to me, baby,
Just gotta get out, just gotta get right outta here

Nothing really matters, Anyone can see,
Nothing really matters,
Nothing really matters to me
Any way the wind blows...

Read a blog How to Play Sheet Music on a Piano.
Composition was first released on Friday 24th June, 2016 and was last updated on Wednesday 30th August, 2023.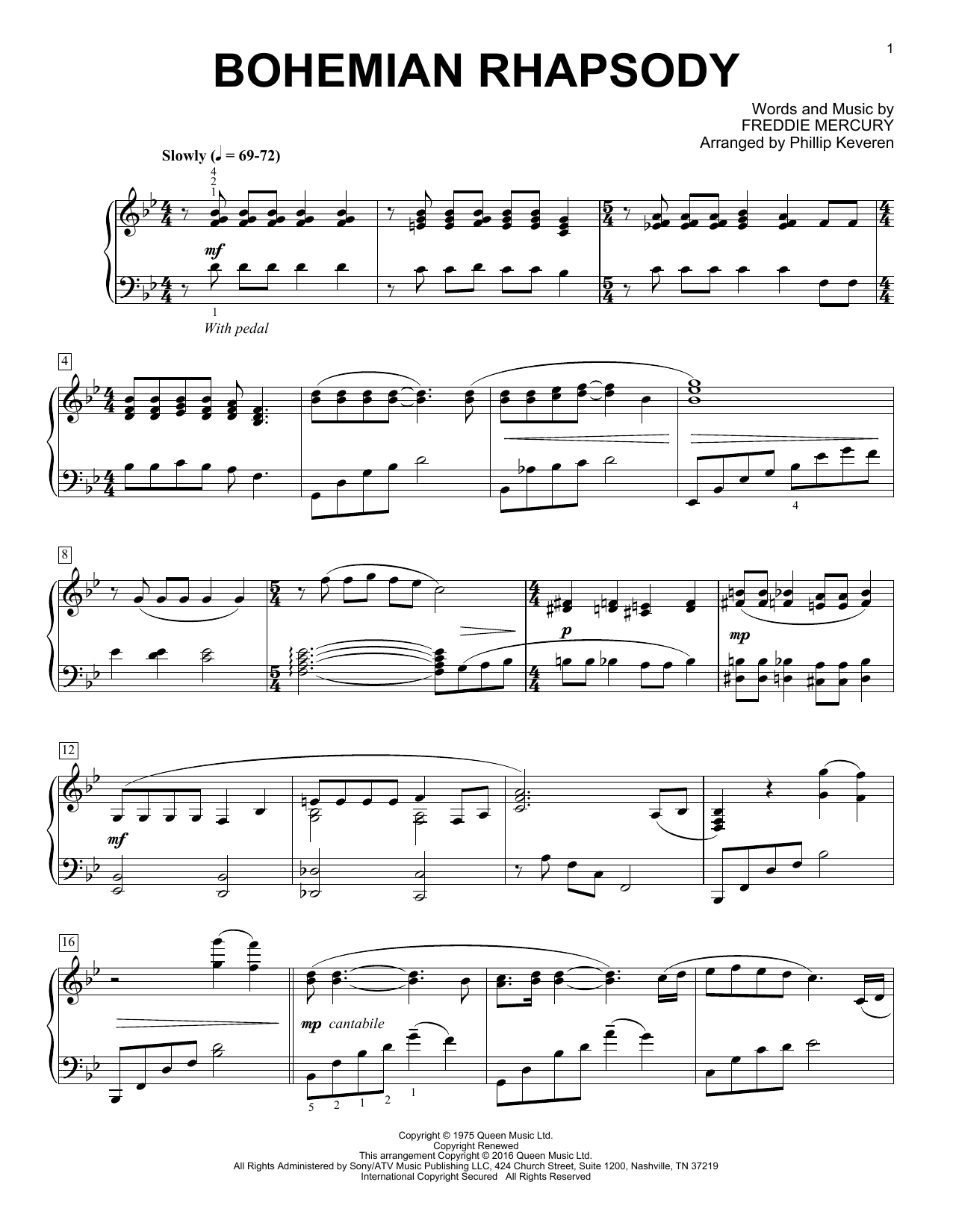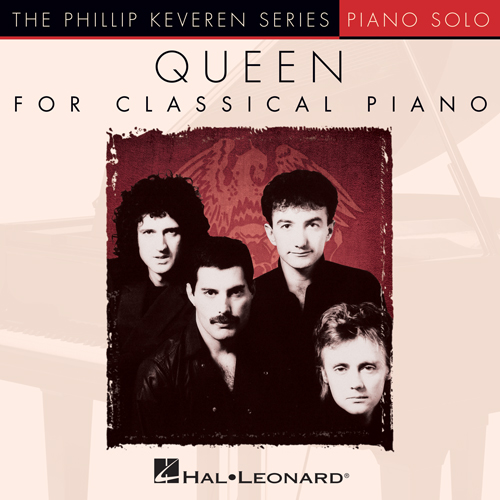 This week's musical treat?
Michael Bublé's 'It's a Beautiful Day'
score - and it's on us! Once your order is wrapped up, keep an eye on your inbox. An e-mail will swing by with
your exclusive download link.
* Eager to shift the tune's key? Here's the scoop:
Spot the 'notes' icon at the viewer's base.
If it's shining white, click and voila! You'll see options ranging from 'Original' to various semitone shifts.
Here's a quickie: Original in C and pick +1 Semitone? You'll get C#. Opt for -1 Semitone from C? You're jamming in B.
While most of our scores love to switch keys, some prefer to stay original. So, give that 'notes' icon a glance before purchasing.
And a pro-tip?
Always transpose before hitting that print or save-as-PDF button.
🎹 Happy playing!