Currently Bestselling Piano Music Notes
Additional Information

Additional Information

| | |
| --- | --- |
| Vocal range | A1-E7 |
| Original published key | C Major |
| Artist(s) | Ludwig van Beethoven |
| SKU | 105738 |
| Release date | Aug 26, 2018 |
| Last Updated | Nov 12, 2023 |
| Genre | Classical |
| Arrangement / Instruments | Easy Piano |
| Arrangement Code | EPF |
| Number of pages | 2 |
| Price | $6.99 |

6

Reviews

Customer Reviews

6 item(s)

I am so happy and excited to be able to play these music notes. I never would have thought I'd enjoy it this much. Thank you so much for providing sheet music.

I downloaded this song for over the summer. I wanted it as a little bit of a challenge since I had only been playing for four years at the time. It was a lot of fun trying to learn it. I feel like it made me a stronger player because it was the longest song I ever tried playing and because of the different key signatures, time signatures, and the different kinds of notes made me a better player. That is just one of.the great products that I downloaded from this site!

InitiallyI had some issues printing sheet music but when I contacted support they responded immediately and my problem was fixed. Now I can finally play it ;)

I am a beginner piano player so I am having some hard time learning this time. Since practice makes perfect I am confident I will learn it on my instrument real fast. I am so glad I got these music notes.

Highly recommend this sheet music. Love your support as well. Good job!

Easy to play. Very straightforward music notes. I was able to learn on piano in minutes.
Ludwig van Beethoven Fur Elise sheet music arranged for Easy Piano and includes 2 page(s). The style of the score is Classical.

Catalog SKU number of the notation is 105738. The arrangement code for the composition is EPF. Minimum required purchase quantity for these notes is 1.

These Fur Elise piano solo music notes were originally published in the key of C but can be easily transposed in range of +/-3 semitones from the original.

Alternative key versions are C#, D, D#, B, Bb and A.
From our blog
Bagatelle No. 25 in A Minor was a song composed by Ludwig van Beethoven and is commonly known as Für Elise.

It is translated "For Elise" and it is a composition for solo piano. The piece is a beautiful, flowing piano piece that people automatically recognize as soon as the pianist starts playing it.

The interesting thing about the piece is that it wasn't discovered until some 40 years after Beethoven's death.

Oddly enough, no one knows who this "Elise" is but there have been some speculations by historians as to who she was.

Beethoven, who lived from 1770 to 1827, was actually deaf at the time of his death and composed many of his best symphonies at a time when he couldn't hear anything.
Getting Für Elise Published
In 1867, some 40 years after Beethoven died, a man named Ludwig Nohl discovered the song and he attested that the original autographed manuscript had on it the title, "For Elise on April 27 in memory of L. v. Bthvn."

Nohl transcribed the music himself and the version that is well known today is actually an earlier version of what he transcribed.

A later version also exists that has significant changes to the accompaniment part. More in our blog.
Composition was first released on Sunday 26th August, 2018 and was last updated on Sunday 12th November, 2023.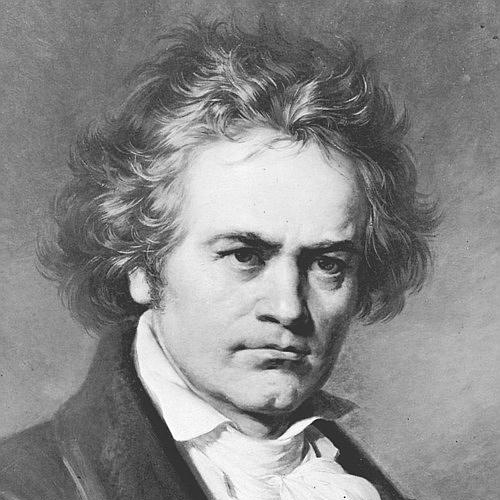 This week's musical treat?
Michael Bublé's 'It's a Beautiful Day'
digital sheet music - and it's on us! Once your order is wrapped up, keep an eye on your inbox. An e-mail will swing by with
your exclusive download link.
* Eager to shift the tune's key? Here's the scoop:
Spot the 'notes' icon at the viewer's base.
If it's shining white, click and voila! You'll see options ranging from 'Original' to various semitone shifts.
Here's a quickie: Original in C and pick +1 Semitone? You'll get C#. Opt for -1 Semitone from C? You're jamming in B.
While most of our scores love to switch keys, some prefer to stay original. So, give that 'notes' icon a glance before purchasing.
And a pro-tip?
Always transpose before hitting that print or save-as-PDF button.
🎹 Happy playing!